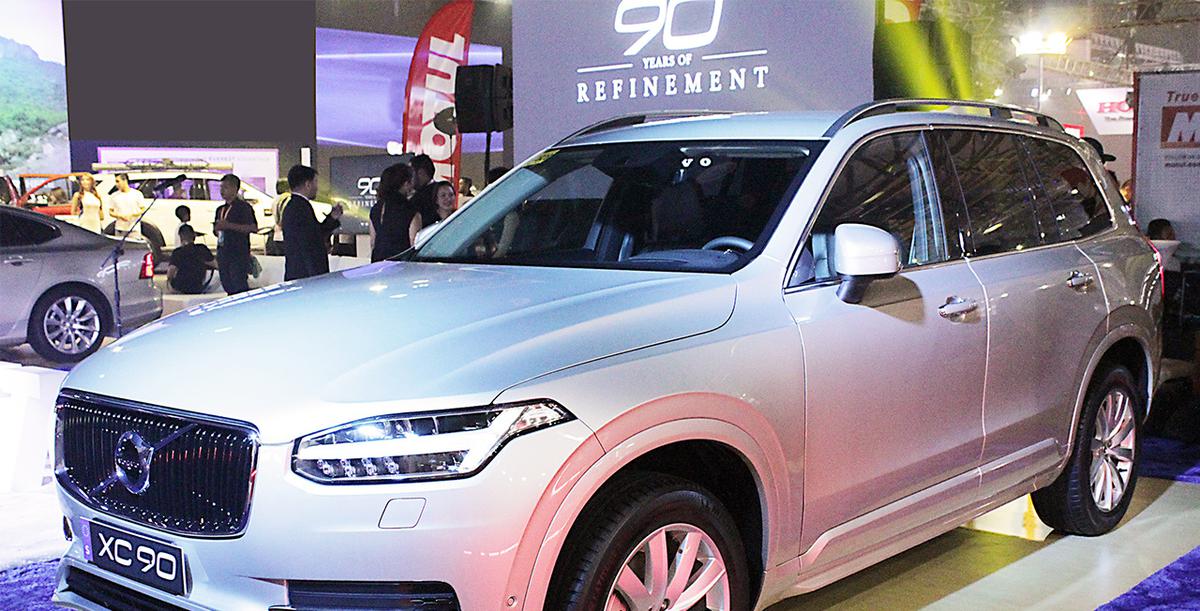 Volvo's newest addition to its 90 series, the S90 luxury sedan and  XC90 SUV, offer innovative systems with Drive-E, Sensus, and IntelliSafe. Showcased in this year's Manila International Auto Show, Volvo's stunning cars were in the forefront of Volvo's new bold and innovative  image.
Engineered to perfection, the recently launched models carry not only Volvo's consistent prime quality, but also years of  craftsmanship and development. The results are two cars built with luxury and comfort in mind. Volvo's XC90,a seven seater SUV, comes with a strong exterior and  is coupled with a leather and wood interior that embody the designer's vision to "create space that combines a contemporary take on luxury with timeless seclusion." On the other hand, the S90 sedan exudes a space of balanced form and function via its  Scandinavian Craftsmanship. From navigation to entertainment, the S90 offers full control with its 12-inch LCD display and accessible functions on its wheel.
Drive-E: Clean efficiency, responsive power
In the heart of Volvo's Drive-E technology is efficient power without compromise. The technology behind Drive-E assures its drivers excellent driving performance that balances both power and efficiency. The Drive-E four-cylinder powertrain  is said to improve fuel efficiency by up to 35 % when  compared to previous powertrain models. Likewise, it deliver weight saving of up to 45 Kg.
The modular approach of Volvo is able to minimize complexity, and therefore increase car engine efficiency. Both diesel and petrol models  share a similar architecture that paves the way for a variety of engine boosting variants including bolt-on power boosting, superchargers, and engine software.
Moreover, launched with the S90 is PowerPlus, an exclusive technology that delivers an innovative way of delivering speed in diesel models. Executed by drawing air from the air filter via a compressor to a pressured two-liter tank, PowerPlus is able to make a boost available at any time.
Sensus: intuitive, intelligent technology that connects you to the world
Volvo Cars utilize a technology that is free from unnecessary clutter. Giving attention to only what is necessary, the car manufacturer uses a human-centric approach inclusive of the most relevant and innovative technologies. Sensus, the car's user interface approach, gives the driver intensive control at his fingertips.
Sensus makes sure the driver is connected all throughout his drive. Giving instant access to information, Volvo has invested on its cars' integration to the digital world. With a built-in Modem and Apple Carplay and Android Auto integration, owners are enabled to connect their existing gadget essentials to the car.
IntelliSafe: A longtime commitment made even more reliable
IntelliSafe is Volvo's approach to comprehensive safety. In many ways, its technology is able to reduce human error to keep those inside, and even those outside of the vehicle, safe. Intelligent prevention and protection are the two key features of Volvo's IntelliSafe.
Volvo keeps its owners safe by providing a series of preventive measures. Making sure that safety is always put at its topmost standard, 90 Series cars are  equipped with warning lights and sound pulses to direct the driver into focus. With an auto-brake system, the said cars are also able to provide assistance against accidental collision. Even in cases where the driver accidentally leaves the road at speeds of 65-140 km/h, Volvo's innovative technology is able to steer back the car into safety by applying the brakes.
These innovative technologies of Volvo are  breakthroughs in car safety and without a doubt, are true  lifesavers
Vision 2020
By the year 2020, Volvo dreams of a vision where nobody is seriously injured or killed in a Volvo Car. Safety has always been one of Volvo's top priorities, and it continues to dedicate its craftsmanship towards unmatched vehicle technologies with uncompromised safety precautions.